-------2022------
10th Mid European Clay Conference – MECC'22, 11. - 15. September 2022, Kliczków, Poland, https://mecc20.pl/
Organizator: Polish Clay Group
International Clay Conference, 25. - 29. July 2022, Istanbul, Turkey
-------2021------
8th Workshop of Slovak Clay Group Clay minerals and selected industrial minerals in material science, applications and environmental technology, 6. - 8. September 2021, Hotel Julianin Dvor, Habovka
-------2020------
7th Workshop of SCG, Clay minerals and selected industrial minerals in material science, applications and environmental technology, 7. - 9. September 2020, Demänovská dolina, Slovakia, 2020
-------2019------
EUROCLAY 2019, 1. - 5. July 2019, Paris, France - International conference on clay science and technology
Meeting of the European Clay Groups Association (ECGA) jointly with the 56th annual meeting of The Clay Minerals Society (CMS) and the 6th Mediterranean Clay Meeting (MCM)
website: https://euroclay2019.sciencesconf.org/
-------2018------
9th Mid European Clay Conference – MECC'18, 17. -21. September 2018, Zagreb, Croatia
Organizer: Croatian Clay Group
The 55th Annual Meeting of the Clay Minerals Society, 11. - 18. June 2018, University of Illinois at Urbana-Champaign, USA
-------2017------
4th Workshop of Slovak Clay Group "Clay minerals and selected non-raw materials in materials science, industrial applications and environmental technology"
Stará Lesná, Slovak Republic, 19. - 21. June 2017
Traditional seminar of SCG
16th International Clay Conference (ICG 2017), website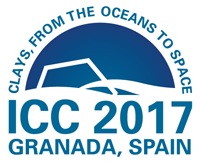 Granada, Spain, 17. - 21. July 2017
World conference of clay science
GOLDSCHMIDT 2017, 13. - 18. August 2017, Paris, France, website
International conference organised anually by European Association of Geochemistry a Geochemical Society.
------2016-------
8th Mid-European Clay Conference (MECC 2016), 4. - 8. July 2016, Košice, Slovak Republic, website